Ed Timmons'
1941 Chevrolet 1-1/2 Ton Flatbed Land Speed Truck
- Features -
Twin turbocharged, twin intercooled, propane powered 509 CID Big Block
Chevrolet, 1500 HP @16 PSI, mid engine, GM 480LE transmission, street driven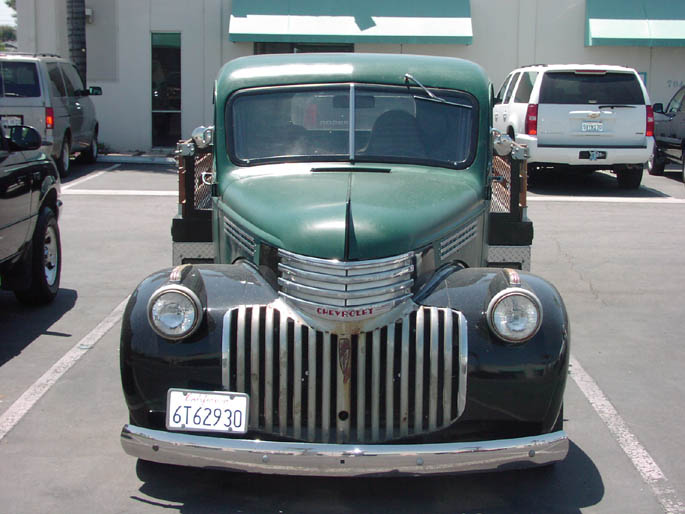 Original paint and chrome belies the real character of this truck.
Chief fabricator on the project was John Dickerson.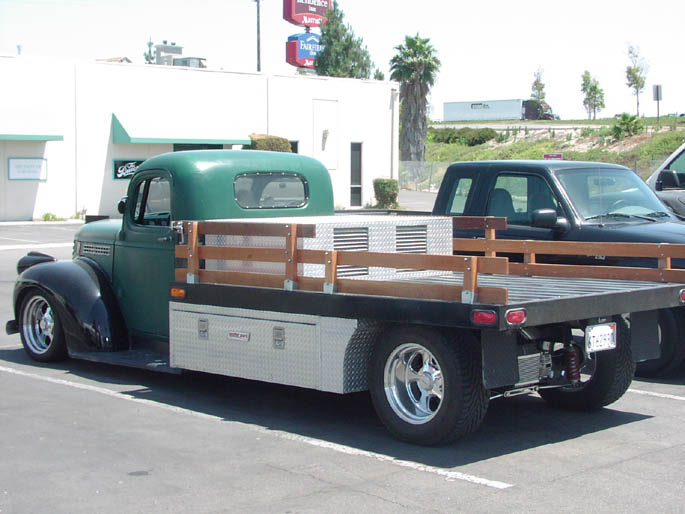 The truck's 134.5" wheelbase was stretched to 168".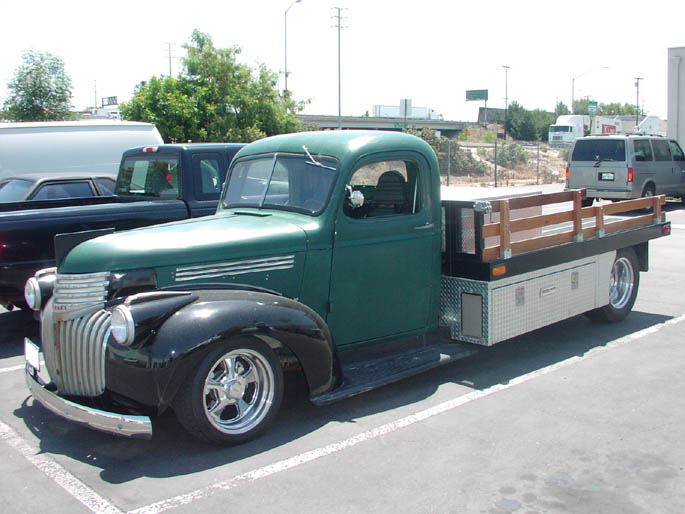 Note air splitter on front of hood. "Tool boxes" (side pods)
feature engine air inlet screens in front.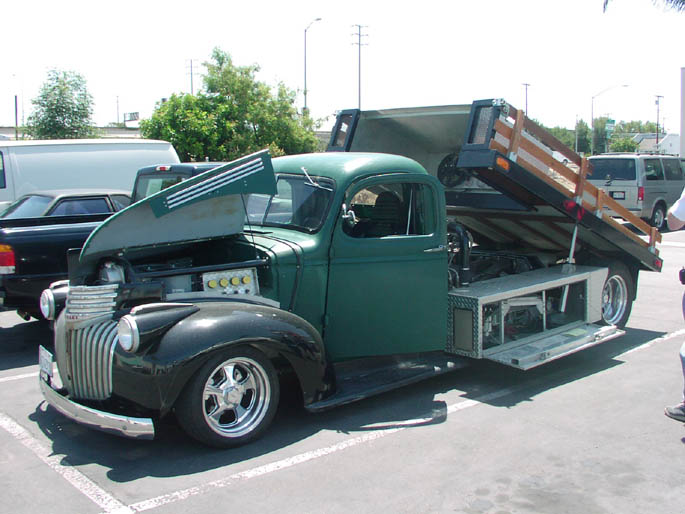 At back end of "tool boxes", in front of rear wheels,
are weight boxes to help stabilize land speed runs.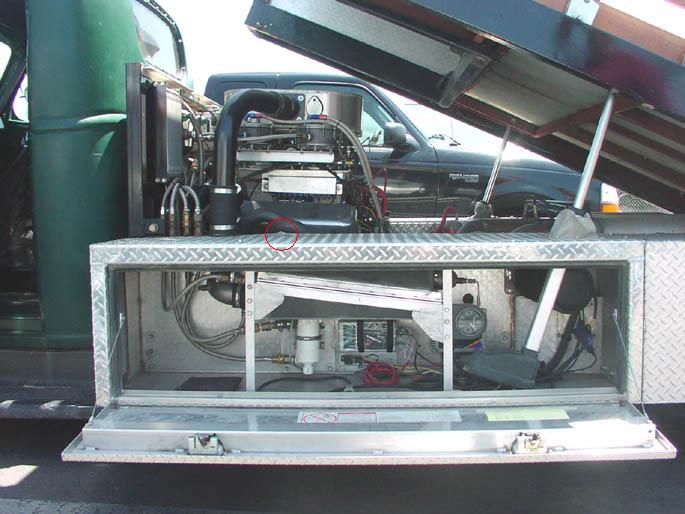 Left side "tool box" contains left side intercooler (diagonal aluminum box)
& air filter (dark circle in upper right corner). White canister is water pump
for both intercoolers. Gauge is odometer (none in cab). Flat bed is lifted by
two electric screw rams. Red circle above shows dimple in left side "tool
box" caused by intercooler failure (explosion) during shakedown run.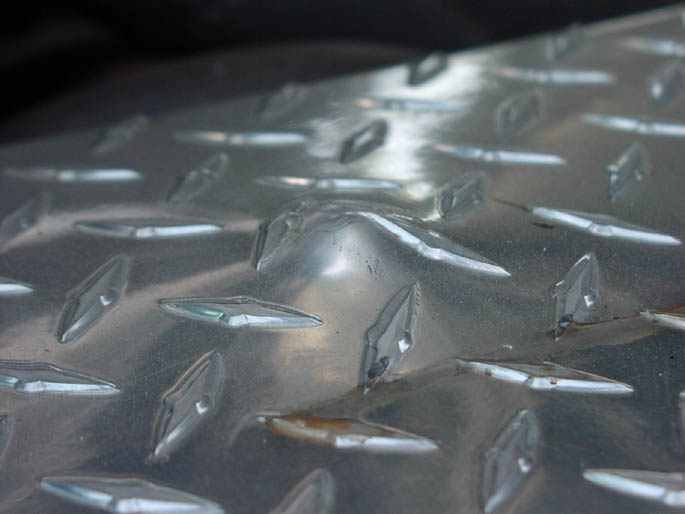 Close up of dimple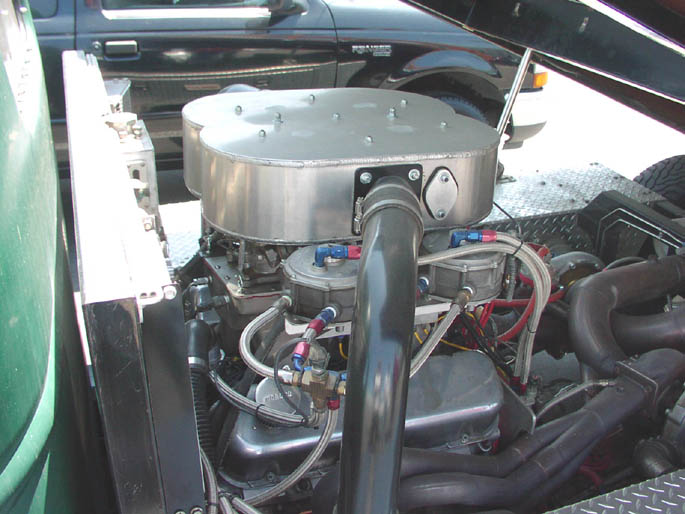 Left side inlet tube feeds into fabricated air box on top of twin propane
carburetors. Propane converters are to the left of the carburetors.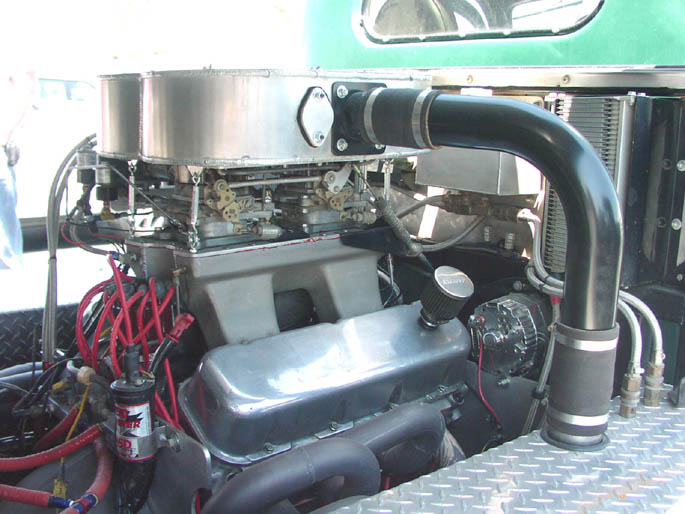 Right side shows carburetors mounted on Dart tunnel ram manifold. Engine
was built by Mike Lefevers of Mitech Racing Engines and features a GM Bow
Tie iron block and BPE modified Brodix aluminum cylinder heads.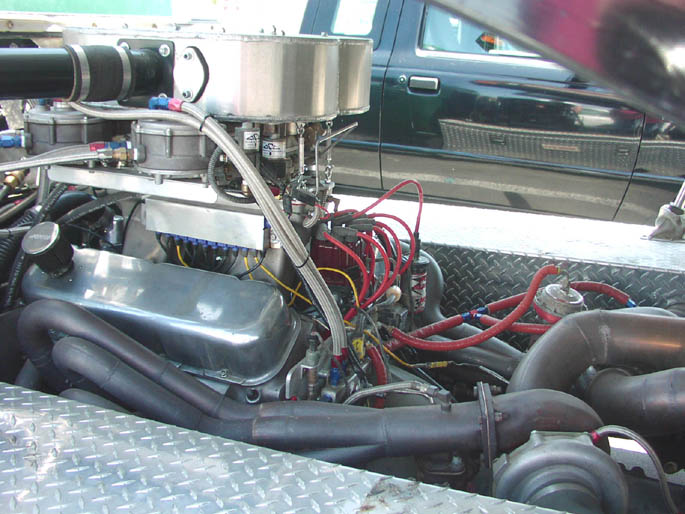 Custom built stainless steel headers with
2 1/8" x 30" primary tubes and 3 1/2" collectors.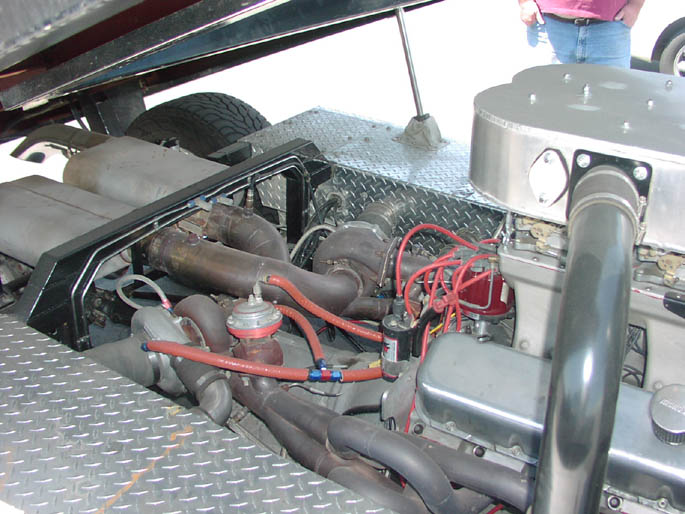 Headers feed directly into ceramic ball bearing turbos. Exhaust
outlets are 4" diameter and go into Flowmaster mufflers.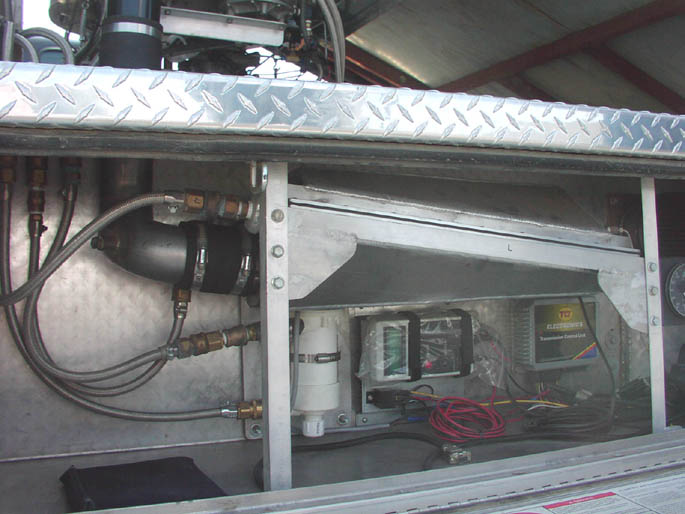 Close up of left side "tool box" shows intercooler water pump, Racepak Data
Systems logging unit using 20 channels and TCI transmission computer.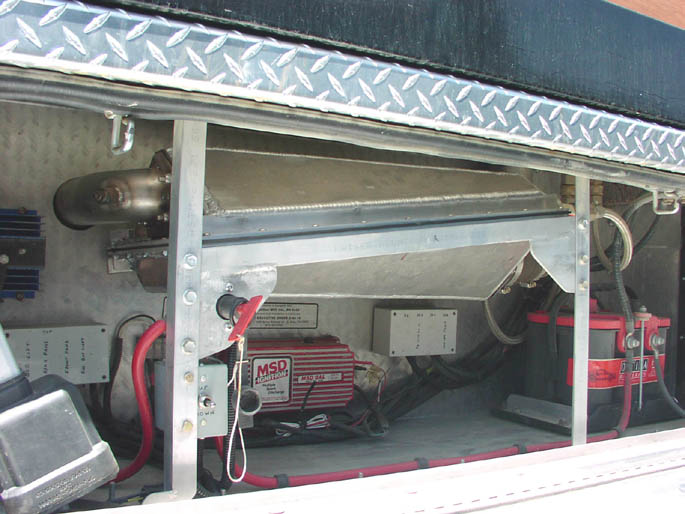 Close up of right side "tool box" shows second intercooler,
MSD Ignition control and one of two batteries.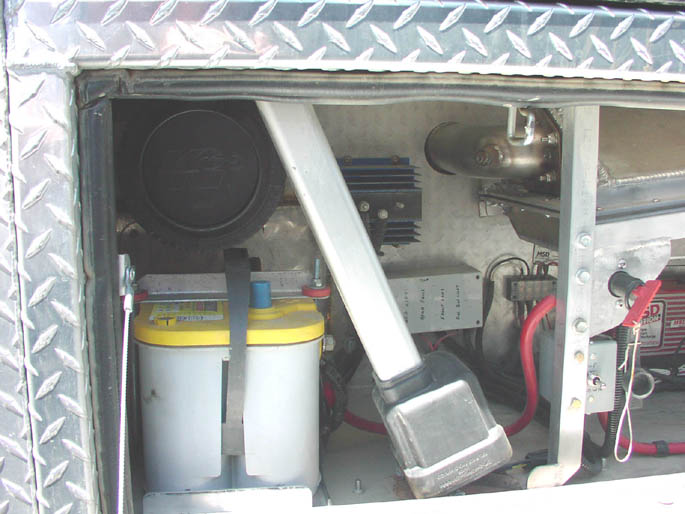 Rear of right side box shows second battery and second K&N air filter
above it. Elbow on rear of intercooler receives intake charge from turbo.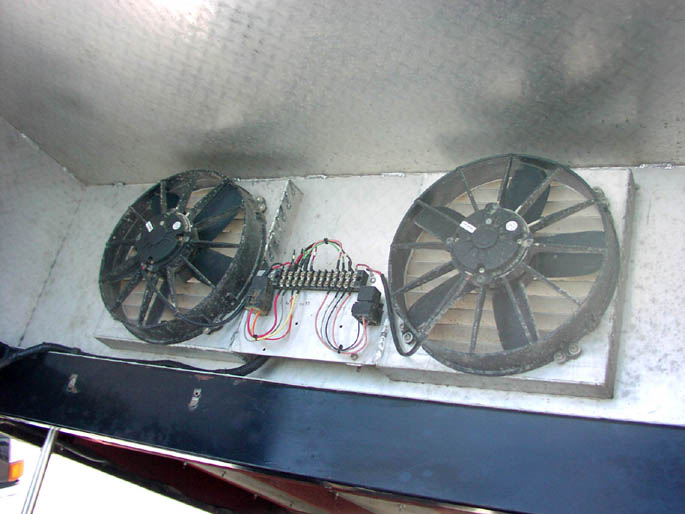 Cooling fans pull air out of "dog house" (engine cover).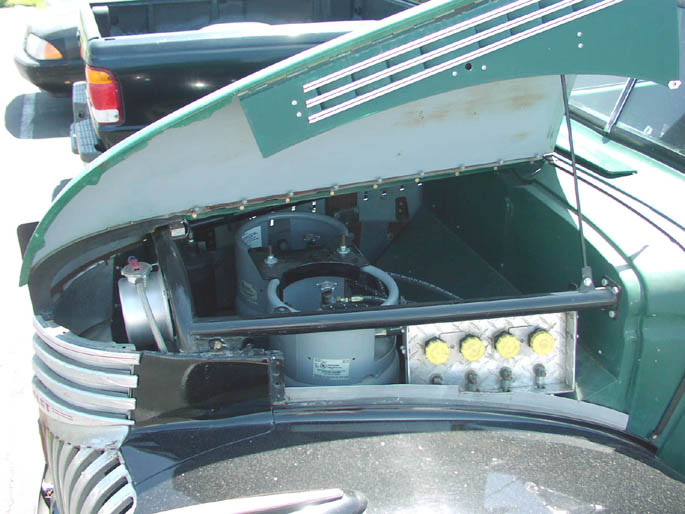 Under the hood shows yellow caps to refill four propane tanks, two under
hood and two under the seat in the cab. Purge tank for radiator is also
shown, radiator is directly below purge tank.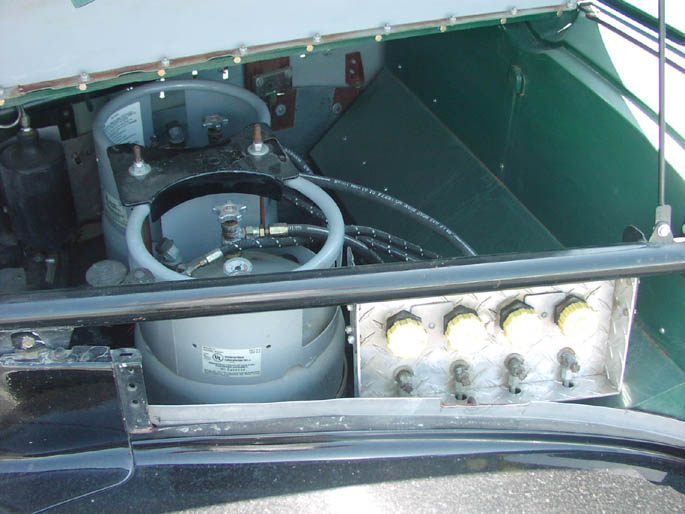 Just add a grill and we'll have some weenies!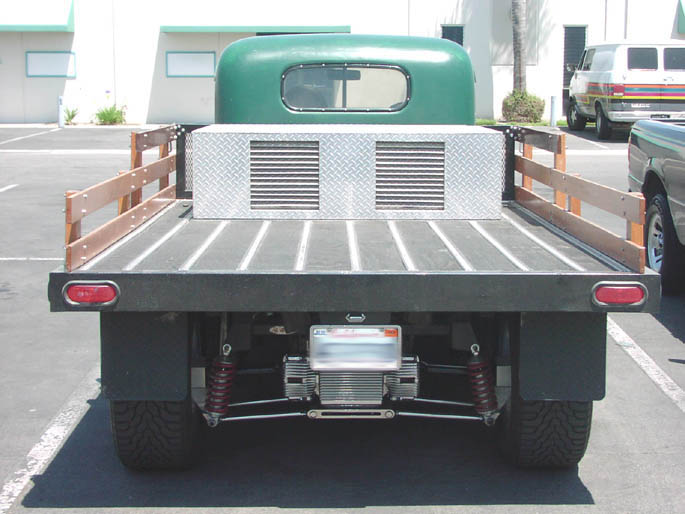 Rear view shows "dog house" engine cover with cooling
fan grills. Flat bed was fabricated for new longer wheelbase.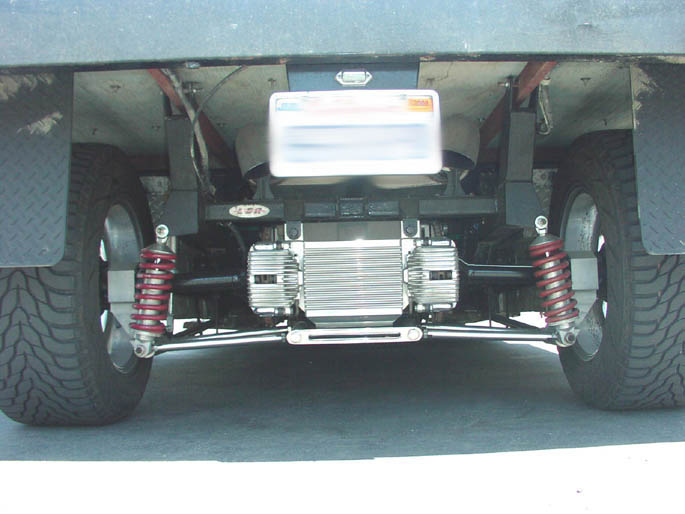 Independent rear suspension features Kugel Komponents rear end with
Ford 9" center section, coil over shocks and inboard disc brakes.
Front suspension is from Kugel also.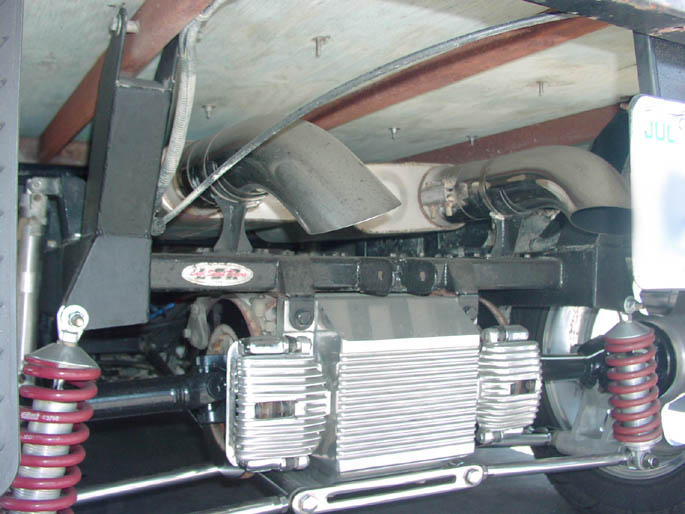 4" exhaust exits above rear end. Mufflers are replaced
with straight pipes for Land Speed attempts.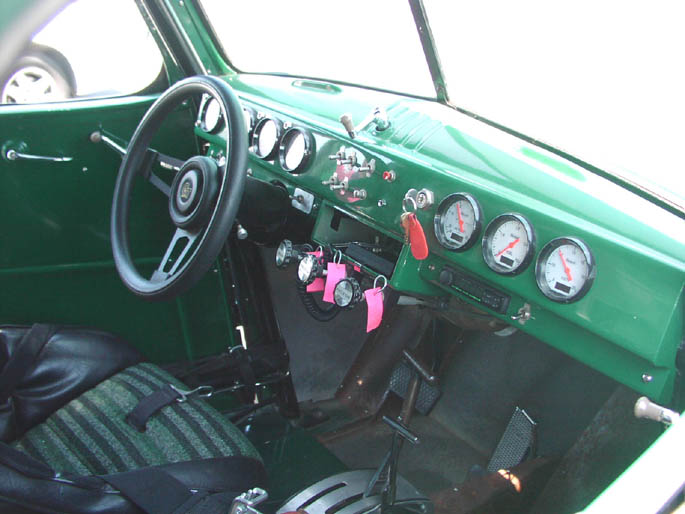 Cab features Racepak combination analog & digital gauges in custom
built dashboard panel. Taller T-handle is transmission shifter, shorter
one is parachute release. Pink tags are fire bottle releases.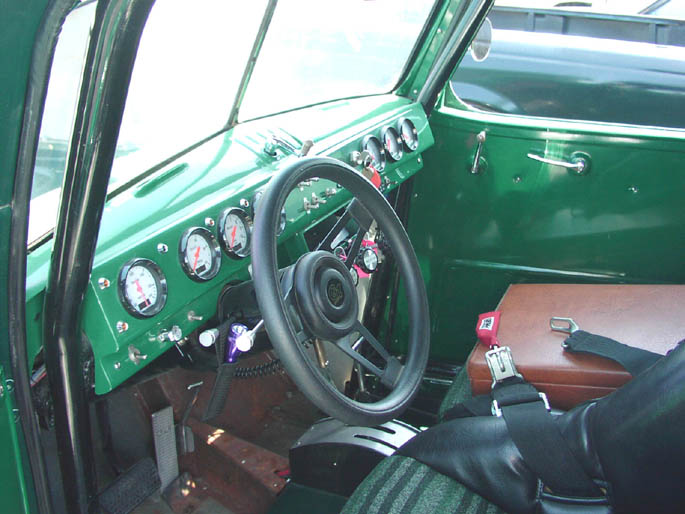 Cab features custom built 6 point roll cage. Racing bucket seats have 5 point
harnesses and yes, the front window still opens outwards with crank on
center of dashboard for 1941 "Air Conditioning".
ED TIMMONS
1941 Chevrolet 1-1/2 Ton Flatbed Truck